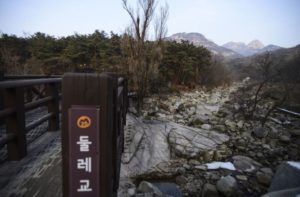 Seoul isn't exactly known for being budget-friendly, but that doesn't mean you won't be able to find things to see and do without emptying your wallet completely. Here are our picks by our friends who own https://www.ipswichplumbing.com.au/ for some of the best free things you can do in Seoul.
Hiking up Bukhansan
There's plenty of choice if you're looking to climb a mountain in Seoul, because there's 37 peaks! But if you're looking the best, most will point you to Bukhansan. If you can get to the highest peak of this mountain (a huge 836m), you'll see absolutely stunning views. If you're lucky, you might even get to enjoy a drink of makgeolli (traditional rice wine) with some of the local hikers.
Gyeongui Line Forest Park
This park got its name because of the 100-year old train tracks it was built on. The tracks used to lead to North Korea, and this park is a must see when you're in the northwest region of Seoul. There's plenty of buskers to listen to, and there's often pianos set up for the public to play. This is a fantastic spot for people-watching.
Oil Tank Culture Park
This park is made up of five oil tanks from the 1970's, that have been transformed into the stunning Oil Tank Culture Park. You can attend free lectures, exhibitions, and even concerts, and watch musicians in the amphitheatre. It's also a fantastic place for photographers, thanks to the building's incredibly unique architecture.
National Museum of Korea
This is the largest museum in South Korea, and while you have to pay an entry fee to the changing exhibitions, there's still plenty to see here. There's 15,000 items and artefacts in this museum, and there's a children's museum as well. This museum also houses part of the Gyeongcheon-sa Temple at its centre, a ten-story pagoda. It's definitely worth getting a photo of this amazing sight!
This list is just a handful of the things you can do in Seoul that won't cost you a fortune, while still enjoying the city's vibrant culture. Of course, make sure you still splurge sometimes. That's what holidays are for!